Spa AquaDiamond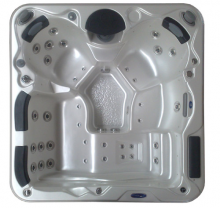 AquaDiamond is a luxuriously spa. With pop-up LCD screen, pop-up speakers and many LED-lights.
Specifications AquaDiamond:

Dimensions: 228 x 218 x 95 cm.
1 lounger, 4 seats
SpaNet digital touchpad XS-3000
SpaNet controller XS-3000
SpaNet heater 3 kW XS-3000

SpaNet programmable circulationpump: 250 Watt
SpaNet low noise, adjustable airblower: 700 Watt
SpaNet HiFlow massagepump: 3 HP



Total spinneedled jets Stainless Steel- 316 (marine grade): 39 pcs

19 jets rotating waterjets Ø 10 cm.
10 jets rotating waterjets Ø 6.5 cm.
10 airjets
DVD with radio and cd with remote-control
Pop-up LCD screen
Vibro speakers
Perimeter LED lights along waterline 20 pcs, 30 colours (adjustable in speed and brightness)
Waterfall
2 x fountains with accessory for different effects
3-zone disinfection; use of 1-micron filter, ozon and UV


Venturisystem (to add water to the waterjets)
Skimmer with easy lift
Diverter ((to divide waterpower, you can for instance put all the power in 1 place to get a superfirm massage)

Lasting Scents® adjustable aromatherapy
4 x Headrests
Synthetic bottom-frame, insulated
Aritstech acrylic in colour: silver-white
Other colours possible on demand

Insulated Shell (high density)
Insulated Skirt in colours: darkbrown or grey synthetic material
Insulated cover in colour: darkgrey
Other colours possible on demand
Coverlift
Step
Every Evolution Spa will be tested before it leaves the factory. It will go to a test run; from water of 40degrees to 10degrees and again 40degrees. To make sure that the spa is working optimal!!